Or, rather, her mom.
Carole had asked on the "La Maison d'Anael" cross-stich forum to make a little something with for theme the sea to put on a big curtain. She was thinking mostly about cross-stich, and actually many people answered to the call, even me for once, I who doesn't do such things much for fear of not meeting objectives in time!!! But
Carole
is a sweet young woman whom I have had the pleasure of meeting several times and with whom I share many interests, and this time I really wanted to participate.
Yesterday, (or rather the day before yesterday), I finally sent her the little somethings I made, not in cross-stitch - I had brought some to do for her on my trip, but didn't stitch a single stitch, of course - BUT, 3 sea creatures in free-motion embroidery on my sewing machine.
The principle is simple. You use your sewing machine like a crayon and draw with it. The mixture of different threads and movements make it an original creation. So here's my first photo on this blog :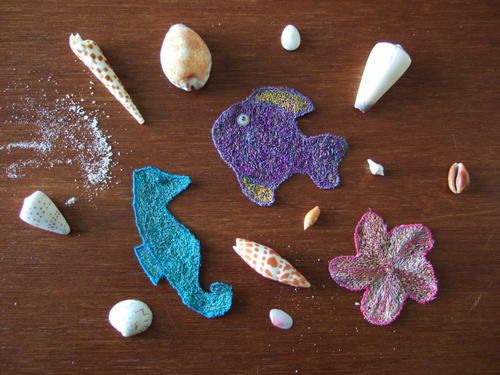 What looks like a flower is acturally a starfish ... hum ... I don't draw so good !!!!
I hope that what I did will go with what the others made, in any case it's very easily recyclable by sewing them on a bag, jeans, a jacket or, whatever !!!!