Finally !!!! Go West some more!!!!!

We were able to progress a little in the sorting of our pix, so here's a little article on our trip last summer.

Last time we had visited Mesa Verde. The next stop on our voyage was Moab, in Utah.
The road was pleasant even though, not far from Moab, we had to stop for at least half an hour because of road work :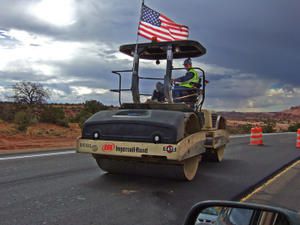 But we had a nice view and could see the storm approaching :
We arrived in Moab, and to our great astonishment, under buckets of rain, aren't we in the desert????? The streets were flooded, very flooded, like water halfway up regular car wheels (we had a 4WD). We nonetheless went up to the Arches National Monument Visitor Center, outside of Moab, in order to plan our visits there. We were gone less than half an hour. Upon returning to Moab, the streets were dry. They must be used to it!!!!
Next morning, we got up really early to see the sun come up on the Arches. Once in the park, you need to drive a bit in order to go on the different sites. We decided to go to "Double Windows" first :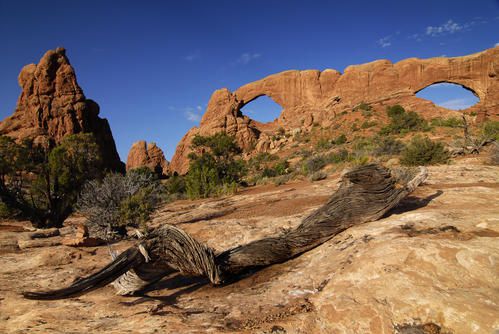 The walk is nice but we were hungry... I had some dried apricots in my bag... Mmmm!!! and we had our picnic breakfast on the parking lot right by :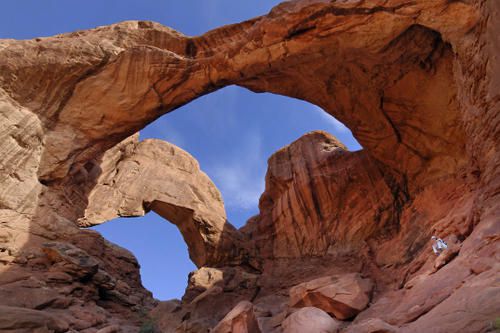 Double Arch, where a couple (not on the photo) were playing the flute. At first during our breakfast, we thought that someone had put their car radio on really loud.... It was nice flute music that made you think of soft Native American flute music, and I found it was great for ambiance... We saw them once near the Double Arch a little below that guy in the picture.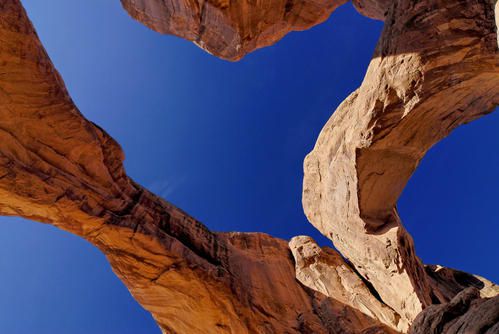 Awesome, isn't it????
Stay tuned for our next Arches episode......
PS
If you like this blog, I suggest that you subscribe to it so that you can be notified when there's a new article.... (go on the right-hand side column "inscription à la newsletter"). I'm a little irregular in publishing articles here, after all, I don't only have a blog to take care of..... like many people.......