Last time I left you with the first two sites in Arches, Windows and Double Arch.
We then proceeded to the visit of Broken Arch via Sand Dune Arch. It was getting hot and my daughter was still under the effects of jetlag, so we left the kids in the car with the AC, yes, I know, but it was that or a heat stroke!!! There wasn't any shade anywhere!!!
So, here we are, my Darling and I with our hats, our bottles of water, and our cameras for a nice walk towards Broken Arch. First we stop off at Sand Dune Arch :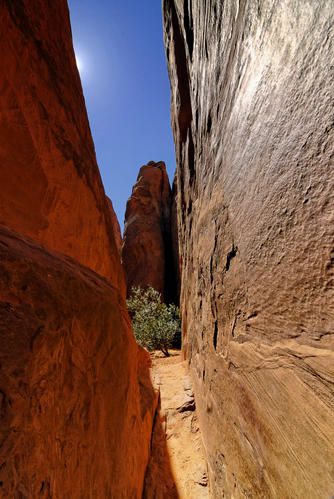 I only have one picture to show you as the sun was too high up to make nice photos. There is among other things a tree with interesting shapes just before entering here, but our pictures weren't good..... yes, these things to happen!!!!
We then went on our little walk towards Broken Arch. A really nice walk on a nice landscape... to get here :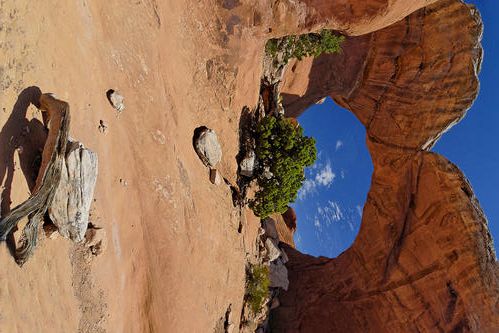 I sat down under this arch where there was a nice breeze while my Darling took photos. The walk continues on for some miles, but we decided to go back the way we came. My Darling thought my face was quite hot.... Of course, I was hot!!!!!!
Actually I had the beginnings of a heat stroke!!! even though I drank a lot and I didn't exert myself too much....., believe me!!!
We then had lunch at the Hacienda, a nice little tex mex restaurant then rested at the hotel. I actually took a nap to get over my heat exhaustion....
At the end of the day, around 6 P.M., we returned to Arches so that this time my Darling and our son could do Park Avenue, I simply wasn't up to it. A few pictures: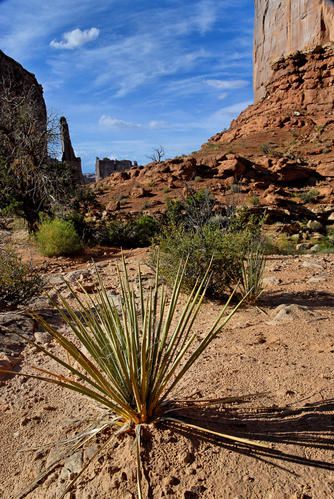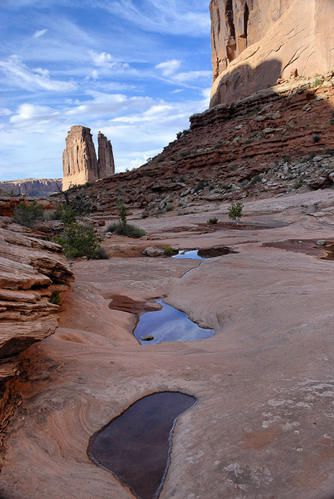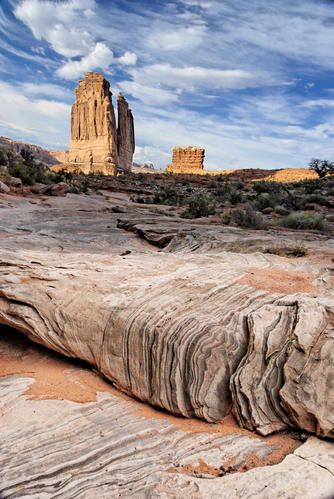 This nice walk took them about and hour to do while taking lots of pictures.... But we didn't stop there, oh no!!! The temperature was now quite enjoyable and the light was getting great, so we went on to Balanced Rock :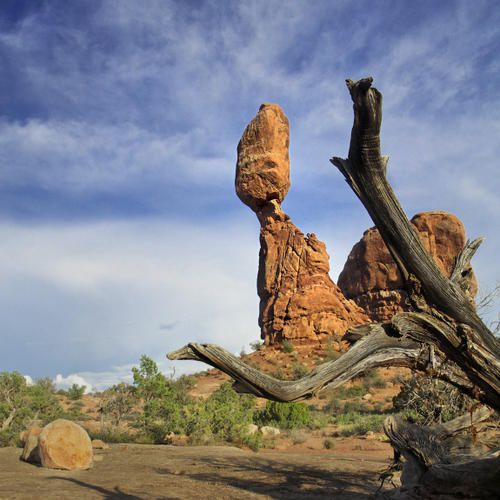 We walked around it, then went off to picnic for dinner with this as our view :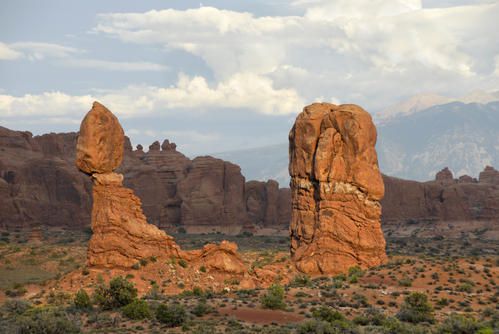 Pretty Awesome, right????
But it was starting to thunder so we started off back to the hotel. On the way, there was a lightning storm :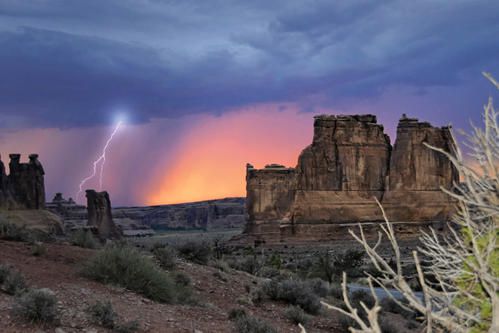 All in all a great fun filled day!!!! We are still so in love with this Natural Park, we were there a first time in 2004, but we could still return there!!!!
In fact, the visit is not over, the next day we returned to Arches, but I'll tell you about it some other time!!! Stay tuned!!!!