I just finished knitting myself the fabulous "
Juliet
" from Zephyr Style that has been knitted
this way
or like this by
VeroM
(scroll down her pages to see the photos) or again on the
Sexy Knitters Club
blog where we can see many different interpretations of Zephyr Style models and other designers as well, but ZS are the fad of the moment !!!!

So, your asking yourselves, and what about her floorcloth????? Well, here it is :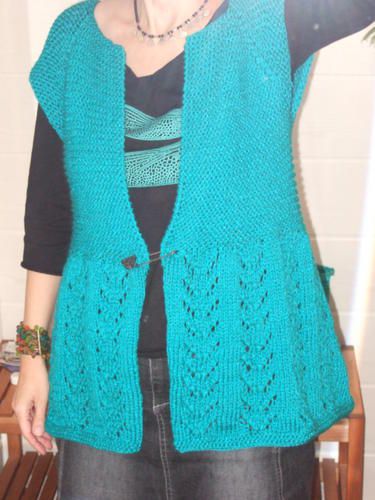 (autoportrait)
or here (thanks DH):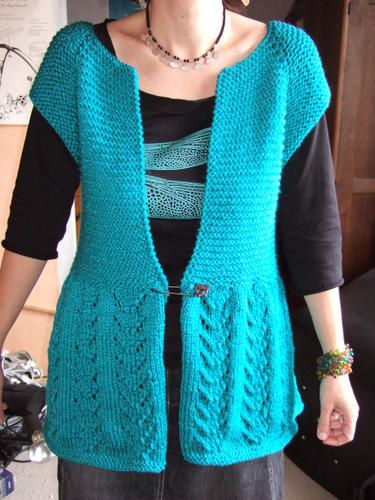 OK I made it 3 times too big (even though I followed the instructions for my size bust)... It's nothing like the girls on the original model ..... Here I really look like a pumpkin (in French Potiron) - a blue one, but pumpkin all the same!!!!!!!!


Note : the yarn I used is Phildar Canasta in Caraïbes, I had a stash of 10 skeins that I had gotten during spring sales, and I had to add 3 more skeins as I knitted with two strands in order to have the correct gauge. And I used a bamboo circular needle in French size 6.
I ordered myself another model, "Wicked" but now I'm seriously hesitating in doing it.... and "Tree Jacket" is tempting me too, but I didn't even order that one....... too much of a scaredy cat.....
PS Personal note: Joelle, look, I'm wearing it!!!!!! How about you???
Addenda on November 25th : Since I posted this article, I did buy Tree jacket, and I've started a new Juliet this time for my daughter in size XS and I will try to do long sleeves on it..... I began last night and am almost finished with the top part....
I do plan to do Wicked and Tree Jacket, I've started shopping around for yarn and doing gauge swatches.... More soon on this habit I've gotten into.....