TIF and ESP - beware, very very long article!!!!!
In this my first article for 2008, I wanted to wish you all a great creative year filled with love and laughter and creative imagination all over!!!!!

Here is my first installment concerning the TIF challenge (see my article "I've done gone crazy"). On January 1st, Sharon gave us the first concept to work on. Here I quote Sharon :
The key concept for January is a feeling we have all had, the feeling of admiration for another. Ask yourself who do you look up to and admire? Why? What is it you admire about them? This is a the first Take it Further challenge in 2008. Take the idea, develop it into a resolved design during that month and apply it to fiber or paper.
As I explained on the Take it Further Challenge page every month there will be two options. The second option this month is a colour scheme. This means that if you don't like the concept you can work the colour scheme or if you don't like the colour scheme you can work with the concept. Or you can work with both.
The colour scheme for this month is below. I came up with it by using ColourLovers If you have not seen this site before and love colour do check it out as there is lots of fun to be had over there.
As promised I have a flickr group set up as well. The flickr group for the Take it Further Design Challenge is here


Now why have I titled this article with ESP, you might wonder???? Well, you know how I've been complaining about not being very creative since this autumn... I've been in the duldrums, and so I've given myself work to do to stimulate myself and this TIF challenge is one of them. Well, on the 26th, I began cutting up some felt squares to make myself this bag from The Cinnamon Patch, to go with a new outfit I have in green and purple. As I was cutting my squares I began thinking about my sister-in-law, person I was going to see on the 29th for a few days. Well, Christine is the person Sharon describes for the new concept. I've always admired her and looked up to her, she has helped me through my hardest hardships I've had to cross, and she's shown me over and over her courage to face and fight her own. AND it's because of her I've thrown myself into textile art for lack of better expression rather than redoing patterns for traditional patchwork or cross-stitch.

OK, so here I am cutting up the squares for my bag, when I think to myself, what if I made one for Christine???? It should be simple and quick enough..... With the intention of making the bag from the book as is more or less but in a blue color scheme, I search through my felt stash, find some black felt and begin cutting and cutting. Note this is after having cut the squares for my own bag.....

And I begin, but as I'm trying to figure out how to place the different blues, all these ideas come to mind and from a rather simple pattern, it has become a bag of different squares, no two alike and not at all in the country style the cinnamon patch intended, not at all!!!!!! The pictures are not very good.... I did them almost as an after-thought and very quickly without any time for nice photography.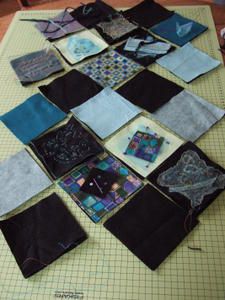 A beginning layout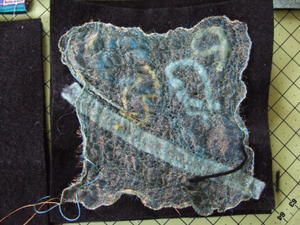 A close-up of a block
Another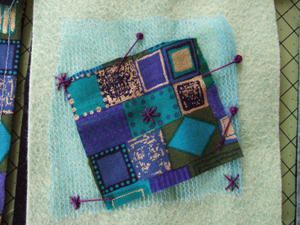 Yet another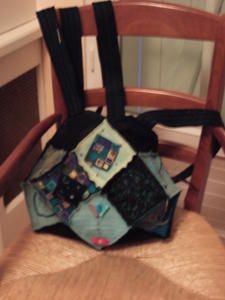 The finished bag, sorry the photo is blurry, I was really in a hurry.....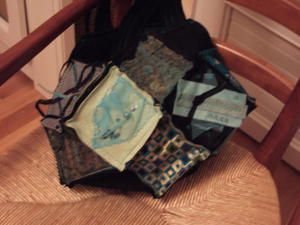 Another side of it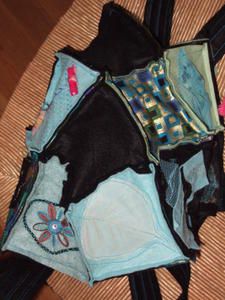 I suddenly realized I had a flash on my camera!!!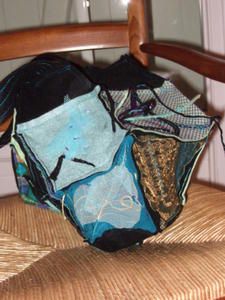 This is one bottom of it.

That's all for the pictures of this bag which I made from about 4 or 5PM on the 26th and finished on the evening of the 28th.... And at the same time I made a gingerbread (on the 28th), did some last minute Xmas shopping, (well new years shopping if you prefer!!), packed and cleaned up the house...... I did a lot of machine work, but I did manage some hand embroidery and beading. She seemed to really like it, so I'm happy and proud..... Have you ever had this feeling when it all came to you and you couldn't help yourself but do it as it came, like under a spell.... This is what happened here.

Now for the TIF challenge.

Well the concept if found. The person at least. What I'll do with it remains to be seen. For the time being, I'm noting down everything I feel about her, her qualities, and such and images I associate with her, of moments with her that were special and that come to mind.... Now how I'm going to transpose it, is another matter. So this is where I'm up to now. I also don't know if I'll use the color scheme as well or not, because there are colors I associate with her (blues....) already, but who knows where inspiration will lead me.

Thank you Sharon for the initiative and it does feel weird this concept you came up with and the quick improvised project I came up with which links up to your concept.

And thank you readers for putting up with all this writing. Hope your eyes are not too blurry and that you're not too bored!!!!!!

Happy projects!!!!!