Ta Da !!!! My own bag / TIFC
That's it !!!! I finally finished that drasted bag !!!!!
OK there is still some hand "finishing" to do with the truncated losanges, I have to reinforce a bit for the handles and my wonderful sewing machine has just told me I need to add some oil, and lo and behold, of course I can't find it!!! (it came with the machine)..... Oh well, tomorrow is another day....
You wanna see it????
Here it is :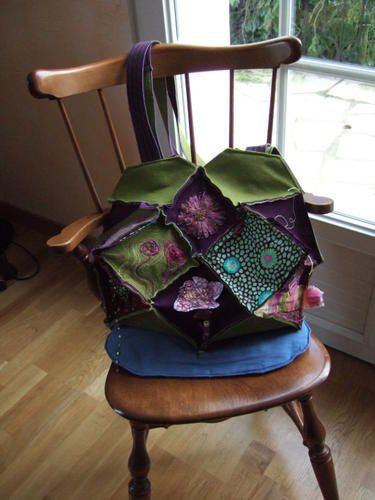 Another side, sorry for the dark picture ...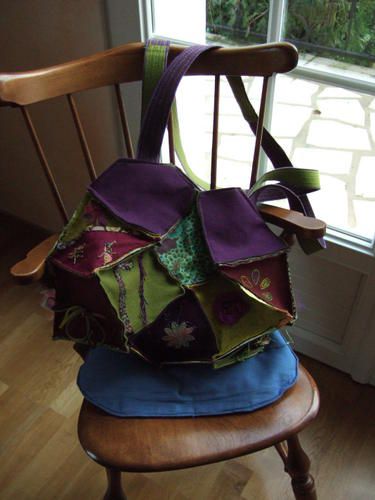 And on the beast :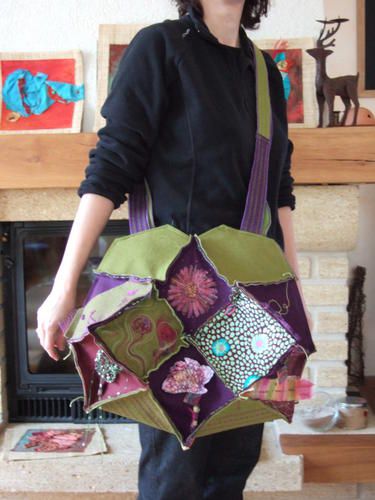 OK, it looks a little big, it's a bit "spaced out", and no it's not inside-out....
I don't know yet if I like it or not...
It certainly gave me trouble though.....
Note : I've just noticed that I've been "tagged" (on my French blog), but tonight I'm too tired to answer...


I'm down in the dumps tonight, our winter break is over already, I don't have the impression of having taken good advantage of it, and especially I don't feel rested... not the impression of having charged up those batteries in order to start anew !!!!
Well that's Life !!!!

Addendum : After reading MIC's comment on my French blog, I've decided to name the bag Zarbi Flowers, which in essence means Weird Flowers...