AEF 2008 - Meeting people....
Meeting People
One of the things I apreciated the most was all the different people I met, even with the crazy crowd....
There were long-time friends from forums like Françoise 28 or
Carole D
. But we only had time for a quick kiss....
Funny/Coupaillon
, whom I couldn't find because she was doing a shibori workshop (lucky girl) and who appeared like magic at the Oliver Twist stand (one of my reasons I go to the AEF).
I noticed
MTSA
, but the poor girl was so busy signing her new book, Les petites bêtes du jardin, that came out just for the event...., and so I didn't get a chance to talk to her and I was too lazy and overwhelmed to stand on line to get her book signed......
And there were friends from forums that I didn't know in person, and who stopped me, well my bag... I remember especially
Martichat
and there was another person whose name I forgot from the
France patchwork
forum as well, who I was to be wearing such a bag..... hum....
There was also a woman I kept running into who had a great scarf made with yoyos that she finished on the train ride up from the South of France .... After a little talk, it turns out she knows one of my friends who lives in the same town as she does... Small world.... she really was a riot.........
1. At the
Oliver Twist stand I wanted to take pictures of their installation they made to show off their products. I need to explain that there were baskets of beautiful stuff on the floor and we had to crouch to go through them (Mmmmmmmm heaven)....
OK, so I was saying I wanted to take pictures and there were these two Japanese ladies going through one of the baskets, I excused myself in order to walk over them (not much space) and one of them asked me about my bag..... And on we go with a "conversation" on the techniques used but all with our hands, my not speaking a word of Japanese, and they not a word of French or English..... We had a ball....
All I was able to say to them was "Arigato"....
Later, towards the end of the day, I ran into them again and one of them asked to take my picture, well of my bag, and I agreed, but she put me next to this amazing Kimono (did I tell you that Japan was the guest of honor?). I really looked terrible with my "messy" bag next to that pure kimono..... Arigato once again!!!!!
How I wish I could have talked with them.....!!!!!
2.
I also met
Val Holmes
who was demonstrating some of the Oliver Twist products.
She's a charming person with beautiful art, all the photos I had seen of her work do not put her work in highlight. She was generous with explanations and advise and a booster too!!!! Another great moment,
Thank you Val!!!!
3.
Habu Textiles
. I discovered them at last year's AEF and that was a big moment for me!!!! Their shop is in NY.... so, of course, being the homesick girl that I am...... They have such beautiful material, go have a look!!!!
This year they're back, I was wondering if they'd come considering how low the dollar is... Well yes!!! and they remembered me!!! I had the impression of seeing old friends.... And their products are still so beautiful and original. And I did it!!! I ordered a knitting kit from them!!! Hope I do it justice in knitting it... The material used is a mix of silk, cotton, and linen paper.....
OK, I'll let you go now, I've put a more detailed account on the French blog, if you can read that language go have a look, it's way too long to translate totally, Hope you don't mind....
Until next time, here are a few of the photos I took on the Oliver Twist stand.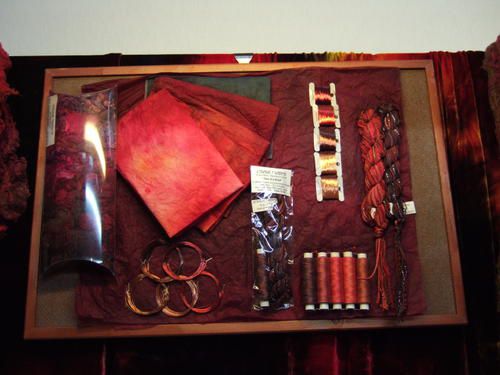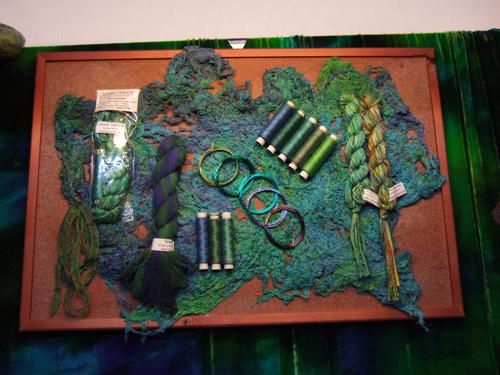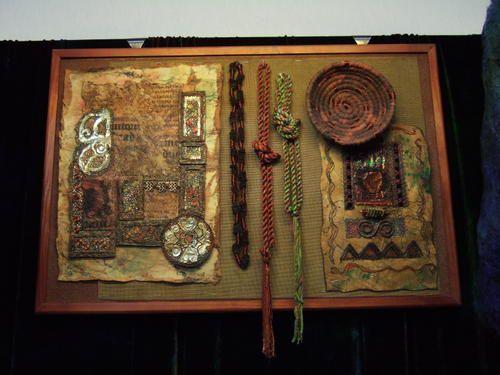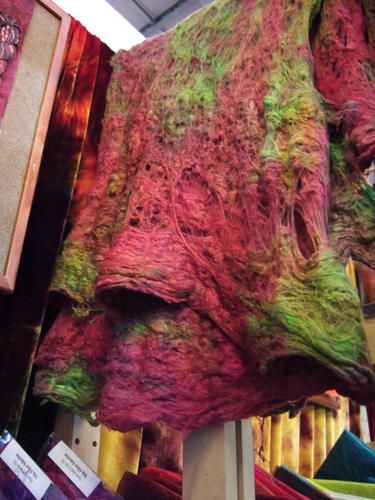 Bye !!!!