Yesterday, with my friend Tagada, we went to Paris to see
HIS
exhibit dedicated to women of the world at the Trocadéro, (accross from the Eiffel Tower).
The place is vast, with drawings and photos everywhere, it takes a while to see everything. Everywhere there are armchairs, sofas, tables where we can sit and look at the very big catalog in 2 volumes (very expensive, €160, but worth it).
An original set up, where it feels good to look, walk around, rest and walk around again.
All these women, so different, so alike. As a woman, I don't know if I identify with them, but in any case, one doesn't remain indifferent.
At first, I was a little disapointed, expecting something more like a "travellog" "carnet de voyage" in a more strict sense of the word, but all in all, a carnet de voyage is what the traveller makes of it... It can take on all sorts of different aspects.
Maybe what troubled me is the fact that it had a specific theme, which I think might not be what a carnet de voyage should be but the impressions of the moment the traveller feels at the time....????
But I got into it, and in the end, I find it is a very beautiful exhibit, that needs to be seen, and I think should even be seen another time to see it under a different light. There are so many works it is difficult to assimilate everything in just one visit.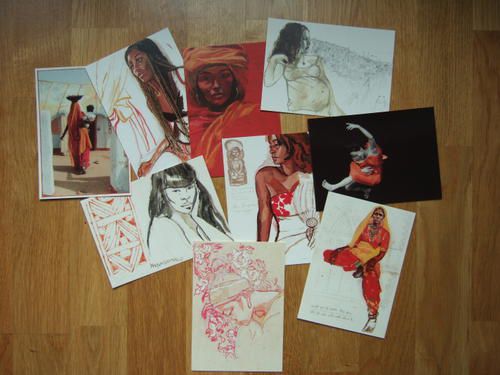 Thank you Titouan