Today I've just discovered a new blog called Old Red Barn and guess what that lady is giving away a really nice quilt and people need to post in order to enter the draw. We get extra entries if we mention it on our blogs and even more if we put this logo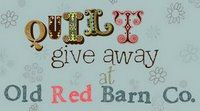 in our sidebar, unfortunately, I'm not sure how to do that. I've just tried, and it didn't work. Today i discover we have a new working environment on this blog, so I have to get used to it and learn how to use it all over again!!!

Anyway, I hope I'm not too late, but I fell in love with this quilt!!! I'm not much for making traditional quilts, I'm more textile art than traditional patchwork, but I love them nonetheless, and admire those who make them!!!!

Old Red Barn is a fun site to visit and she has her own shop with natural products, I'm going to have a deeper look-see at her products and watch for possibilities of shipment to France.....

Go have a look, you won't regret it!!!

On top of that, in one of her sidebars, she has added a playlist and so I've just discovered

Jack Johnson's

music... WOW!!! I love it!!!

Thank you Old Red Barn!!! (I haven't even seen what your name is or anything else!!!)

Note : Now I found out her name, it's Dana!!! Dana, you don't know me yet, but I also have this same blog (more or less) in French... and I've added this posting to it as well!!!!