Because
Funny
just awarded me with the Arte y Pico award. Ah that Funny, I should call her Crazy because I don't think I deserve the award - not having been very productive creation-wise - , but boy does it make me happy, et especially it encourages me to go forward!!!

So, Funny, thank you, you'll always surprise me!!!!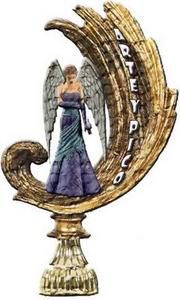 So, what is this award, you ask???? It's an award, created by an Uruguayan artist,
Eseya
. The rules are simple :

1) You have to pick 5 blogs that you copnsider deserve this award, creativity, design, interesting material, and also contrubuites to the blogger community, no matter of language.


2) Each award has to have the name of the author and also a link to his or her blog to be visited by everyone.


3) Each award-winning, has to show the award and put the name and link to the blog thathas given her or him the ward itself.


4) Award-winning and the one who has given the prize have to show the link of "Arte y pico"blog , so everyone will know the origin of this award.


5) To show these rules.
I have followed all these rules, but one, the most difficult one in my opinion because I have to name 5 blogs and just like that off the top of my hat, I can name at least the double!!!!!

So, I award the Arte y Pico award to :


Francis
for his now famous Pierre La Pierre, his humour, his kindness and especially his talent, always a breath of fresh air when I visit his blog!


VéroM
,
- cross-stitch, patchwork, crochet and knitting - a person with golden hands, her impeccable taste, who has made me want to make so many things, real eye candy


Moonstitches
- another golden handed person. She lives in Japan and takes wonderful pictures..... I adore her, also a source for inspiration....


Auntie Jo Funny Little Kitchen
- here we're in another sphere as here because Auntie Joe's talent lies in her cooking. Kitchen of 3 continents, every time I visit her, I travel, I savour, I'm enchanted..... Just go see.......


Le Clown Navet
- The clown's antics have inspired me often in terms of textile art-mixed media. Always curious, ready to try out new techniques. She always is ahead of me in terms of creation, but she seems to be following the same track as me, only I'm a slow poke, and she's an acrobat, or rather the new mother of an acrobat..... maybe now I'll be able to catch up with her since her mind and hands are otherwise occupied....

Above are the 5 winners, but I can't leave you without mentioning these other blogs I enjoy visiting on a regular basis:

The group I'll call the crazy creators, who on top of that are friends (at least I think so) I name :
Cécile
,
MLG
,
400 coups,
Froufrou et Capucine
, and finally
Coco
. Just go and see for yourself, it will be better than any words I can put down here.

I've just discovered
Gooseflesh
's blog. She makes surprising things with crochet and finally a very new blog:
Crochet & the City
.
Enjoy visiting all these blogs!!!!