Well, my BB isn't about to be finished !!!!!!!!!!
I wanted to hurry up to finish it, in order to get on to something else.... I made rounds and rounds... And now, I'm stuck!!! Yes and for 2 reasons :

1.Intensive crochet has given me tendinitis, no way to crochet, knit, or even weave in the yarn ends to the BB!!!!
This is where it stands now :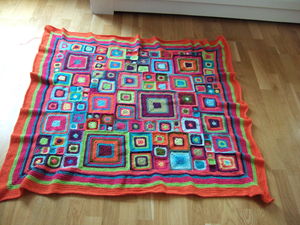 Here it measures about 116x112cm, but see how it's wavy??? Hopefully blocking it will straighten it out, if not, too bad!!!

2. I had planned to put flowers all around it as I explained HERE in my blog, but alas, I'm out of flowers!!!!!
See for yourself :

Here they aren't placed in the final way, but as you can see, I'm missing easily half of what I need, expecially since I don't want just a row of flowers one after another, so I'm missing a ton!!!! And with the tendinitis, it's not ready to be finished!!!! SIGH!!!! Boo Hoo !!!!!

So my Babette Blanket remains a WIP, or UFO, or whatever you want to call it ........
Any suggestions????


My BB was made with my Phildar Lambswool yarn that I had used to make the flowers for an earlier project... plus some other colors added since, because some colors were not renewed.... I who had wanted to finish before going away on holiday, to feel accomplishment in having at least one big project finished !!!!!!!!!!! DARN!!!!!!!!



The pattern is Babette Blanket by Kathryn Merrick - you can get it
HERE
I made the translation into French with Kathy's and Interweave Press' authorization, just ask me for it!

The yarn I used is Lambswool by
Phildar
in these colors : Curry, Fushia, Perruche, Pistache, Curaçao, Papaye, Soleil, Turquoise,
Verveine,
Muscat, Goelette, Paon, Velours , Jungle, Bronze, Vert d'eau, Ecosse, et some touches of Vésuve, and some various leftover yarns from here or there... crochet 3mm
The flowers are from a crochet scarf of various flowers and leaves pattern by

Phildar

in their fall/winter 2005-06 catalogue n°440 which to my knowledge is no longer in print.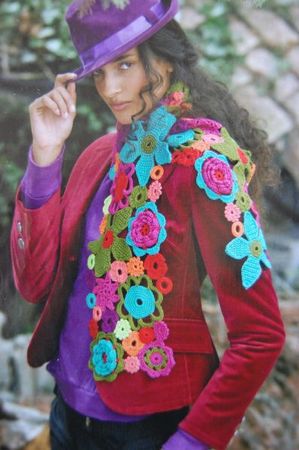 Now you know everything!!!!!!!!