These shoes are made for walkin'
I dreamt them,
She
made herself some

!!
!
See for Yourself!!!!!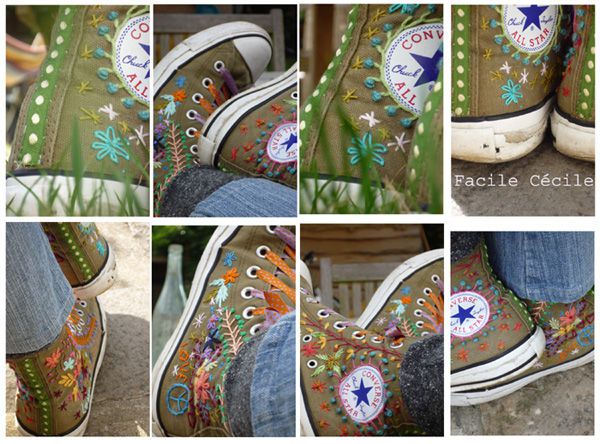 There are people like that, who make things that I've had in my head for years sometimes without having spoken about them to anyone. I have an image in my head, and one day, sometimes a few years later, someone has made it!!!
Crazy, isn't it????
Dingue, non???
So then, of course, I'm angry with myself, why didn't I do what I had in mind???? The idea was a good one.
This is what I'm going to work on this year!!!! Thank you Cécile for kicking me where it hurts (figuratively)!!!! I'm going to try to make all these ideas I've had in my head for so long, my ideas I don't dare put into being....
Ah when doubt overtakes us!!!!
Of course, what is done by the other is never Exactly what I would have done, to each his or her own personality and way of doing things, but there it is, it's done!!! Cécile is one of these persons, and it isn't the first time. She has so much talent and on top of that she has the capacity of working fast and well!!! One wonders how she does it all!!!
Follow your road, Cécile, and to accompany you, a bit of music :
and like the title to your post: